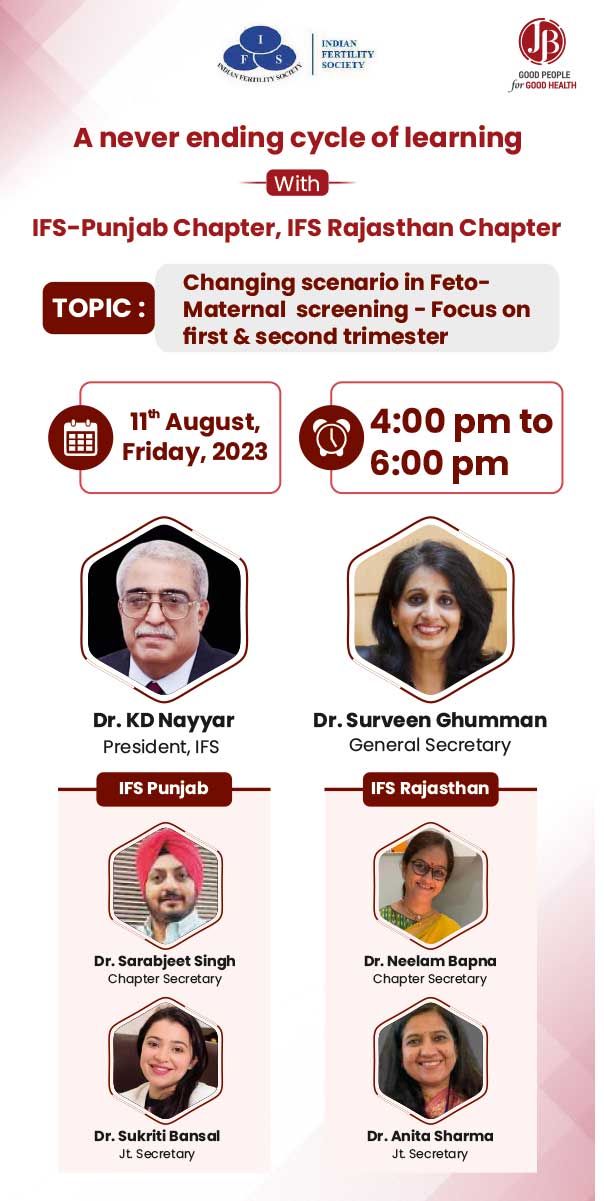 ID, 'full', array( 'class' => 'img-responsive' ) );?>
ID, 'full', array( 'class' => 'img-responsive' ) );?>
3rd Training module on "Infertility and ART" organized by Jindal IVF Centre under aegis of IFS on 14th to 16th June at The Jungle retreat, Chehel, HP
BCGIP Congress " Building consensus out of controversies in Gynecology,Infertility and Perinatology" was held in Istanbul, Turkey from 30.5.13 to 2.6.13. IFS excecutive members actively participated by giving talks and chairing sessions in the same.

IFS Web Site Launch
On the Same day of IVF- IVS connect website of Punjab Chapter was launched www.ifspunjabchapter.com
Zonal Conference
IVF – IFS Connect – On April 5th 2015 Punjab Chapter annual Zonal conference "IFS – IVF connect" at Jalandhar, This marked the successful completion of a year of IFS at Punjab.it was meeting well attended by more than 50 IVF experts from all over the Punjab and they took active part in deliberations . From the centre Dr. Umesh Jindal, Dr K D Nayar, Dr Kuldeep Jain, Brigadier R K Sharma , from the chapter Dr. Kumud Pasricha, Dr Amita Sharma, Dr, Jasmine Dr. Monica Verma and other were present .
Hands on IUI workshop held on September 13, 2014 at Shivam IVF centre where more than 30 Gynaecologists were given training on Semen analysis Semen preparation & method of IUI

CME – Chapter organised CME in Ramada Plaza Hotel on the topic of General Management to Infertility, where Dr. Sujata Sharma (Prof & HOD- Govt. Medical College Amritsar) delivered the talk. In this talk more than 50 IFS Member attended the talk
Combined IFS & FOGSI CME  – CME organised on "Stimulation Protocols in IUI & IVF by Dr Pooja Mehta (Fortis Mohali) and Setting up of IUI Labs by Mr. Mahesh (Sanzyme –ART, Hyderabad)" in hotel Ramada- Jalandhar on October 28th 2015 where more than 30 IFS Member participated locally.
Inaugural meeting & 1st CME
This Was held on 6th April 2015, more than 200 delegates attended this meeting where Dr. Sonia Malik, Dr. Sudha Parsad, Dr. Neena Malhotra, Dr K D Nayar , Dr Umesh Jindal and other dignitaries attended the meeting besides the other delegates.


REPORT OF ARTIS-2016, ON 1st 2nd OCTOBER 2016 AT JALANDHAR
Infertility UPDATE Artis-2016 was held on 1st and 2nd October 2016 at Club Cabbana, Jalandhar under the aegis of IFS Punjab Chapter. It was an International symposium on Infertility starting from the basics to the advanced and most recent updates on Infertility. It was a two day academic feast with a live workshop on day 1 (1st October) and CME on day 2 ie, (2nd October). There were approximately 250 delegates from all parts of the country. Faculty from National and International level participated in it.
The main International faculty included-
Dr. Heike Boppert from Germany
Dr. GautamAllahabadia from Dubai.
The main National level Faculty and Infertility experts were –
Dr K.D.Nayar
Dr Abha Majumdar
Dr Kuldeep Jain
Dr Gouri Devi
Dr Vanita Jaggi Kumar
Mrs Goral Gandhi
Dr Sunil Jindal Merrut
Dr Alok Sharma Shimla
Dr Ritesh Aggarwal
Dr Sumana Gurunath
 Dr Pranay Ghosh
Dr Sujata Sharma
 Dr Madhu Nagpal
 Dr Ashima Taneja
Dr Poonam Rastogi
Dr Monica Verma
The Education minister of Punjab Dr D.S.Chema, was the chief guest of the Inagural ceremony.
It was an international symposium on ART where all infertility specialists (beginners and experts), embroyologists, laproscopic surgeons, onco specialists, and endoscopists were enlightened with knowledge. The main emphasis was on speaker – audience interaction. There was also a cultural event on the eve of 1st October.
In a nutshell, it was a great academic feast coupled with fun in an exotic resort.
There were more then 250 Registrations